Integrating Formstack Solution with S-Drive App Drives Faster Time to Value and Improves CX 
CINCINNATI, Ohio—June 14, 2023 – CyanGate, award-winning document management, and Salesforce solution developer and service provider, launched the first solution for end-to-end document management from file collection to document generation and beyond. The S-Drive solution integrates with Formstack to help streamline the entire document management process,  speeding time to value and improving the customer experience in what is often a complex and disjointed process for organizations and end-users.  
Document management is a multi-step process often involving different applications and solutions. With the new S-Drive solution, the entire process happens inside of one application. This includes document creation, document requests, document collection, e-signatures, storage, and more. The solution solves the pain points resulting from an increasingly digital world with strict data governance and privacy mandates to comply with. 
Most common use cases for document collection: 
Legal forms 

 

Insurance claims  

 

University or educational applications  

 

Banking or loan applications 

 

Certification or qualification 

 

Patient intake forms 

 

Sales contracts 

 

Any generic application

 
"Streamlining the document management process with document collection solves major pain points across industries," said Bulent Dogan, Founder and Senior Solution Architect, S-Drive. "Without an end-to-end solution like S-Drive, the entire process is broken, not user-friendly, and inefficient at best." 
Benefits of the end-to-end solution include: 
Secure portal for end-user to upload documents and digital assets

 

Effective data and compliance processes 

 

E-signature support

 

Pre-filled forms

 

Secure storage and access to documents and files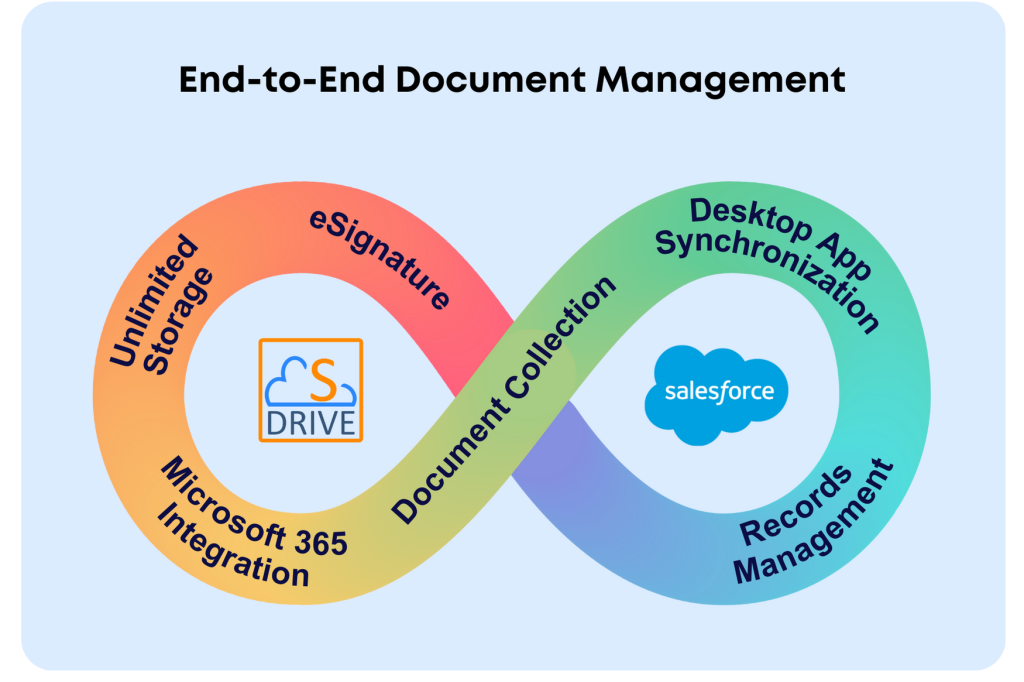 "Collaborating with S-Drive on this end-to-end solution for document management solved an immediate need for a customer in the healthcare industry," said Zak Pines, Vice President, Partnerships at Formstack. "It's a powerful solution to meet the evolving needs of customers and partners in any industry seeking to increase efficiency and improve customer experience." 
Built on the Salesforce Platform, S-Drive is a native solution and is available on AppExchange. Learn more about the end-to-end solution here.  
### 
Salesforce, AppExchange, and others are among the trademarks of Salesforce.com, Inc. 
About CyanGate: 
CyanGate designs, delivers, and supports award-winning Digital Asset Management (DAM) and Salesforce Solutions, headquartered in Cincinnati, Ohio, with an office in Ankara, Turkey. CyanGate specializes in DAM system architecture design, Enterprise DAM implementations, and integrations. We ensure our customers reduce operational costs, return on investment, and improve productivity through our Digital Asset Management Solutions. CyanGate's customers include global Fortune 500 companies in diverse industries. 
Media Contact:  
Erika Goldwater
CyanGate
+ 1 617.407.3578
Egoldwater@cyangate.com