The Salesforce.com service cloud provides companies with a customer portal for their own customers and partners to log support cases and get updates 24×7. Salesforce.com's Customer Portal allows companies to interact with their customer base at a single location. In addition to case management, Customer Portals can provide knowledge base, ideas, answers, help, training and many other self-service tools.
Companies can extend the case management features of the Customer Portal and allow their customers to exchange case file attachments with Customer Support Staff. S-Drive for Salesforce.com provides an intuitive interface for your customers to attach any number of large files to the appropriate cases so that the case attachments can become accessible by support staff.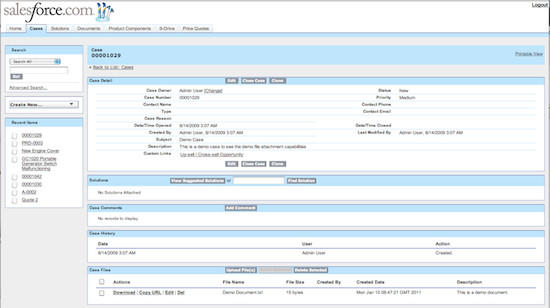 S-Drive for Salesforce.com eliminates difficult-to-use FTP servers and expensive and disconnected file exchange applications. All case files can be easily attached to the appropriate support case directly from within the Customer Portal.
With the S-Drive email agent, support emails and email attachments can also be automatically stored in Salesforce.com. Your customers can simply email back attachments for a case, and all information will be stored and centralized at one location that can be accessed by your support staff. S-Drive enhances the email to case feature of Salesforce.com by eliminating file attachment size limits.
Advantages of Using S-Drive for Case File Management
Eliminate difficult-to-use FTP servers.
Collect all support case information at a single location.
Prevent sharing of FTP passwords and exposure of customer data.
Allow your customers to upload multiple files at a time to Salesforce.com with ease.
Extend the Salesforce.com attachment file size limit from 5MB to 2GBs (or eliminate it with the S-Drive Admin Tool).
Eliminate the use of expensive Salesforce.com storage costs by offloading Salesforce.com file storage to Amazon S3.