Follow these instructions to upgrade S-Drive from any previous version to our latest version:
STEP 1:
Install the latest version of S-Drive
Go to https://sdriveapp.com
Click Try it Now, which will take you to the S-Drive page in the AppExchange
Click Get It Now button
Select Log in to the AppExchange option.
Provide your login credentials and click Log in to Salesforce button.
Select Install in production or Install in sandbox based on your organization needs.
Review What You Are Installing and Where You Are Installing sections, check I have read and agree to the terms and conditions and click Confirm and Install! button.
Login to the installation org (production or sandbox) by providing your login credentials and click Log in to Salesforce button.
Select Install for All Users option and click Upgrade button.
Wait while S-Drive is being upgraded and make sure you see "Upgrade Complete!" message. Click Done.
STEP 2:
If you  have custom objects from your previous S-Drive version, there are fields that must be added to your CustomFile Object. S-Drive can do this automatically:
Open S-Drive Configuration tab.
On the General Settings tab, scroll down to Object Field Settings.
Click on the Sync button. This will add fields to your custom objects that are needed in the upgraded version.
STEP 3:
Once the Object sync is done, go to each of your custom file objects and check that all the fields have been added correctly. If any are missing, add them manually as described in the table below. (You can ignore these steps for CaseFiles, AccountFiles, ContactFiles, OpportunityFiles and S3Object):
Go to Setup  and navigate to your custom file object's fields and relationships. For example, if your custom object name is Student, then there will be another object named Student_File. This is the one you want to check.
If any of the following fields are missing, create them manually.
Note: In each step you should check Visible checkbox for all Field-Level Security for Profile fields.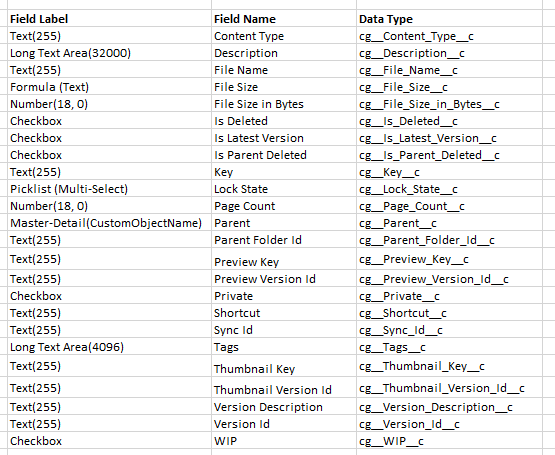 Note that Preview & Thumbnail feature will be auto enabled for S-Drive Folders (S3Object), and Preview & Thumbnail will be generated for your future uploads to S-Drive Folders in 2.1. You can disable this feature from S-Drive Configuration Tab. You can also check Preview & Thumbnail conversion pricing here.
Now you're ready to create folders, upload files and so much more using the latest version of S-Drive!