One of the key elements of document management in the 4th Industrial Revolution is mobility. We are taking our mobile phones wherever we go. There is no escape from it. In the case of a field service engineer, we learned from our customers that their service operations can greatly benefit from a feature where it is easy for the engineer to upload photos into S-Drive. Another use case was from a real estate agency. Their agents wanted to upload photos easily into S-Drive. Now, this is possible!
Mobility features of S-Drive is not limited to uploading images and videos. You can read our mobility guide HERE.
Now, we can talk a little bit about Taj Mahal since we correlated it with our mobility wonder during our 2.1 Release Webinar…
We picked Taj Mahal for our upload feature because it is the only wonder that changes colors throughout the day and worth taking pictures with your mobile phone as many shades of color as possible. Because of its pure white color, the structure changes color based on the lighting during that specific part of the day. It has been known to assume natural colors such as pink, blue, orange, and yellow during different times of the day. Below is the five different colors we managed to take photos of in a day.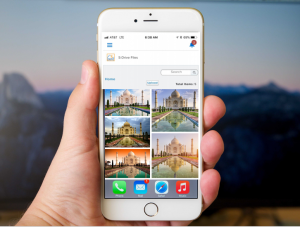 Amazing!
Let's talk a little bit about Taj Mahal's history. A mausoleum built by the Mughal emperor Shah Jahan, it is a tomb where his wife Mumtaz is buried. Taj Mahal is made entirely from marble stone.
If you want to schedule a live demo of the mobility feature of S-Drive, do not hesitate to schedule a meeting. If you want to test it for yourself, you can always visit get.sdriveapp.com.
Next week, we will talk about customization and how S-Drive enables you to build workflows or set automated processes about your files. Have a great weekend and let us know if S-Drive Team can help you with anything.