The only method to deliver Content to customers without a Salesforce license was Content Packs. Unfortunately, this feature is slated for retirement by February 2020. Furthermore, Salesforce announced that Content will never be supported in Lightning. Here is a quick tip on what to do for a smooth transition.
As a Salesforce Admin, are you looking for a New Year's resolution? Here is a suggestion…Use S-Drive to replace Salesforce Content and Content Packs. Following the Spring '20 release (targeted for February 2020), Content Packs will be retired and the capability to create new packs or change files in packs will be unavailable. Your existing Content Packs will remain, including the metadata associated with them. However, the preview function will no longer work for the files in the Content Pack, though it will still be downloadable. You can read more about the announcement HERE.
What Are Content, Content Deliveries and Content Packs?
The engine behind Content Packs is Content so we should explain this functionality first. Acting as a central repository, Content helps manage all relevant business collateral within Salesforce.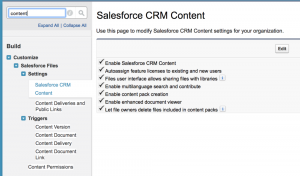 Content can be shared via the Content Delivery feature which helps convert files into an online format that is available via a link to both Salesforce and non-Salesforce users.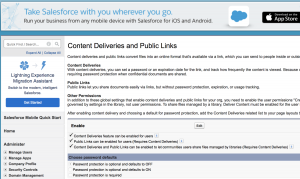 A Content Pack is a collection of related documents or files that are stored as a group in Salesforce CRM Content. For example, you may want to create a Content Pack with a product list, price quote, and contract to securely send to a particular customer or partner. Once the Content Pack is determined, based on your Content Delivery settings, the Content Pack could be shared.
Why Is This Important?
This mechanism has effectively been the only native way to share Content in Salesforce with non-Salesforce users. With Content Packs being retired and Content (and Content Delivery) not working in Lightning, Salesforce customers are forced to look elsewhere for a solution. Salesforce is working on its own Content Management System (CMS), yet, it is far from going live to truly replace all features and functionalities of Content functionality.
Is There a Better Solution on Salesforce for Content Delivery & Content Management?
Yes. S-Drive comes to the rescue. As an AppExchange app, here are the Top 10 reasons as to why S-Drive can be a viable replacement for Salesforce Content.
1. Displaying Metadata
In order to better classify the content, content managers need to create metadata related to the content. Metadata can also help discover files in the content database. S-Drive is native to Salesforce and allows the creation of metadata.
2. Ability to Build Folder Structures
In order to better organize files, a folder structure can be built with nested folders underneath.
3. Ability to Add Tags
In order to specify the content, tags can be used. Tags simplify finding relevant content and help build more advanced analytics about popular content.
4. File Previews
Whether it is a video, image, pdf or a Microsoft office document, the content can be previewed easily without downloading.
5. File Versioning
New versions of a file can be created while maintaining older versions.
6. Ability to Conduct Folder-based Search
Any keyword can be used to search S-Drive, and the number of matching results in each folder is displayed in the folder tree to help in very complex taxonomy structures.
7. Folder-based Downloads
A folder or a number of files can be downloaded. The folder, including its nested folder structure, is maintained during the download.
8. Multiple File Uploads
A group of files can be uploaded at the same time. Up to 5000GB of content can be uploaded in a single operation.
9. Secure File (and Folder) Sharing
A secure link can be generated for a group of files (or folders) vis a vis content pack. This link can be shared with non-Salesforce users. The link works as a download link for non-Salesforce users. Additionally, the link can operate as an access link for users to revise content, upload new content or delete content.
10. File-related Analytics
S-Drive brings the ability to track the usage of the content via an Audit tab and with Salesforce reports and dashboards.
You can watch the entire S-Drive as a Replacement for Salesforce Content video below.
Next Steps
Check out S-Drive the Highest-Rated Document Management App on AppExchange, watch demo, take a test drive and learn more.