What's new in 2.2?
2.2 Release turned out to be a release of All Clouds. We refer to All Clouds as Marketing Cloud, Sales Cloud, Service Cloud, Communities Cloud, Commerce Cloud and Connect Cloud.
Marketing Cloud: Along with this release, we introduce HD-quality file previews and thumbnails.
Sales Cloud: You can do lead conversion and carry over lead files to contact files, account files and/ or opportunity files, it is a matter of your choice.
Service Cloud: We are introducing a free component for Case with Attachment(s). No more hassling with a tedious two-step process to create cases first and attach files second.
Communities Cloud: A truly desired feature 'Folder-based Search' is available now. This way, you can search with a keyword on a specific folder.
Commerce Cloud: We are enabling S-Drive users to share public URLs with password protection. Users will not only be able to download but also be able to access files and folders even if they are not Salesforce users.
Connect Cloud: Willing to import files and folders from Sharepoint Online, Google Drive, OneDrive or Box into S-Drive? No problem! You will be able to do that using our new Import X-Files feature (which is available for free)
Aside from these main features, here are some other nice features coming along with 2.2 Release:
Simplified Custom Object support & Automagical Sync (migrating from 1.x to 2.2 is just a Sync button away)
Multiple S-Drive objects in single page
Recycle Bin & Expanding a Preview are available on Classic (used to be only available for Lightning)
What's new in 2.1?
Along with the 2.1 release S-Drive is presenting 7 new customer-centric enhancements on Salesforce.com
Collaboration: Enablement of Chatter
Enable users regardless of their location to have a discussion around a particular document
Personalization: myDrive – Your Personal Drive
Having a private space for all users to keep their personal files in a neat folder format on Salesforce.com – Enabled for Lightning Experience
Mobility: Ability to Upload Files using Mobile App
Ability for users to upload files while they are on-the-go
Customization: S-Actions- Conduct Custom Actions
Enable admins to establish custom actions on Salesforce.com
Flexibility: Retrieve Deleted Files and Folders
Ability to restore files and folders that have been deleted in a Recycle Bin – Enabled for Lightning Experience
Simplicity: S-URL – Ability to Shorten URLs
Create shorter file URLs to simplify file link sharing experience with your brand name
Accessibility: Send Files via Email to Users
Email not only to Salesforce contacts but also Salesforce internal users
Other than these 7 enhancements:
Added the ability for the sidebar to expand / collapse in Lightning to allow larger space for S-Drive
Added Audit section to be able to track the history of changes to the file
Please note that;
What's new in 2.0?
Along with the 2.0 release S-Drive is now Lightning Ready. You can configure S-Drive Lightning Component for your standard/custom objects and S3Object(S-Drive Tab).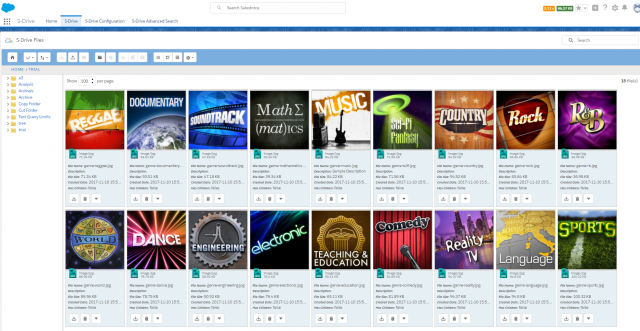 Please note that;
If you enable my domain after installing S-Drive 2.0, the S-Drive Tab which is placed into S-Drive App for Lightning Experience will not be visible.

To make this tab visible, navigate to Setup–>Profiles–> Your Profile–> Tab Settings and then set S-Drive tab to "Default On". This is a known issue of Salesforce. For further explanation, you can visit this link.
What's new in 1.28?
Note that Preview & Thumbnail feature will be auto enabled for S-Drive Folders (S3Object), and Preview & Thumbnail will be generated for your upcoming uploads to S-Drive Folders in 1.28. You can disable this feature from S-Drive Configuration Tab. You can also check Preview & Thumbnail conversion pricing
Also, you can save your preferences (Sorting fields or View Type selection) to settings, in order to define default behaviour of the object you work on.
Zip & Download
You can select multi files & folders and download at once by HTML based Zip & Download Service with all browsers support. Service will create a zip file then immediately start to download. S-Drive does not support Java based Download Manager anymore.
Custom Fields
Now, you can add custom fields to S-Drive Folders, too.
What's new in 1.27?
S-Drive Advanced Search Tab. You can refer to the S-Drive User Guide 1.27.pdf.
Amazon S3 Transfer Acceleration configuration for HTML uploads and downloads. You can refer to the S-Drive Advanced Configuration Guide 1.27.pdf.
Rename feature added for S-Drive Attachments. You can refer to the S-Drive User Guide 1.27.pdf.
Flash Upload has been deprecated in S-Drive.