Expand All
Collapse All
What's new in 2.6?
Records Management
2.6 Patch Releases
2.6.9
Changes to support AWS Signature Version 4
Retention Policy: Users can now set a retention policy to active or inactive while creating it. Previously it was automatically set to activce upon creation and the user would have to deactivate it if they didn't want it active right away.

2.6.8
Changes to support AWS Signature Version 4

2.6.7
Retention Policy : Criteria Fields and Operators
Criteria fields are limited to fields that are likely to be used as criteria in a retention policy.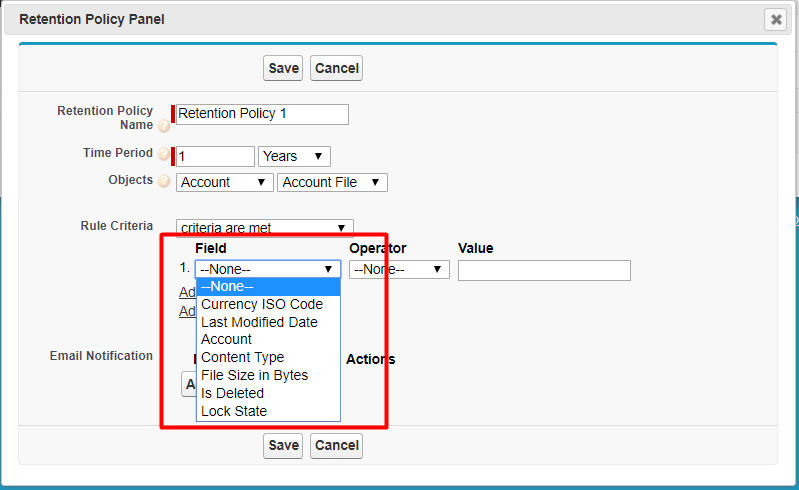 Operator and Field lists are now dependent in the criteria. There is no less than/greater than option if it does not make sense to use with a field in Field list.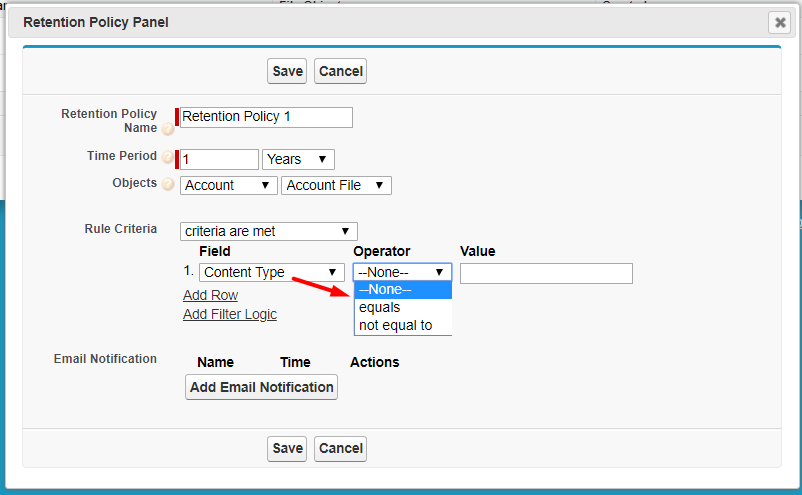 Retention Policy Email
Retention policy notification email is updated with an inclusion of the Org ID to be more informative.

2.6.6
Bug fixes and performance enhancements

2.6.5
Release 2.6 contains features to enhance a complete Records Management life-cycle, allowing more control over modifying, maintaining and disposing of records.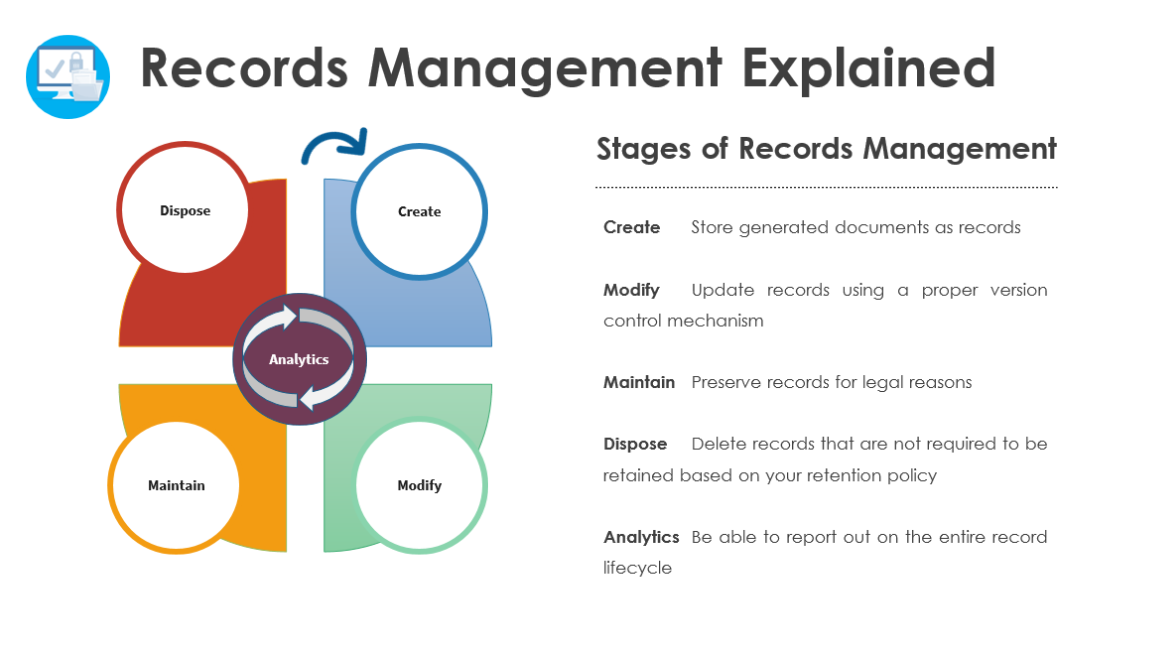 Check-in/Check-out: Allows users to check out files, locking them so no one else can modify them, and then check them back in after changes are made. This feature allows for a proper version control mechanism.
Legal Hold: Files on legal hold are locked, preventing changes. Legal hold enables organizations to maintain and preserve records for litigation or regulatory purposes.
Retention Policy: Organizations can now configure retention policies to automatically dispose of files after a certain period of time. This allows for cleanup of clutter, better use of storage space, and minimizes exposure of files in the event of a security breach.
File Activities: Give more control over analytics. Tracks user activities on files, such as download, open, file lock activities (check-in/out, legal hold), etc.
For more information please refer to S-Drive User Guide and S-Drive Admin Guide 2.6.
---
What's new in 2.5?
File Sync, Tagging, and more

File Sync

Synchronizing Salesforce Files with S-Drive is now available with 2.5 release. After making the necessary configurations, files uploaded to Salesforce Files are sent automatically to S-Drive placed under the configured object. It is also possible to remove files from Salesforce Files after successfully synchronizing them with S-Drive.
Existing Salesforce Files can be synced with S-Drive.

Tagging

Tagging files and folders is now available in S-Drive 2.5. Users can tag files, remove tags from files and search for the tagged files. Admin users can also define a set of banned tags to prevent users from tagging files or folders with those words.

Self Service Invoicing

S-Drive Portal has an invoice generation functionality made available with S-Drive 2.5 release. Users can see their payment history and download the invoice for S-Drive usage from previous months.

Compact S-Drive

A more compact version made available with 2.5 release allows users to fit S-Drive to spaces with different sizes on the page layout. In order to use S-Drive in narrow spaces, choose compact view during Lightning configuration of S-Drive.

Advanced Emails

New email component coming with 2.5 release allows users to attach files from S-Drive. Users can also track history of the emails sent from this component on Activity History.

---

What's new in 2.3? Shortcuts, Drag and Drop, REST, HIPAA Compliance

Shortcuts

Users can shortcut a file to anywhere they want in S-Drive. This place can be a folder in the same record, another record under the same object or a record under a different object. Shortcuts have zero bytes of size, enabling users to have the same file in multiple places without paying any extra storage costs.

Note: Shortcuts are available in both Classic view and Lightning Experience, although they can only be created in Lightning Experience.

REST Services

REST API is now available for S-Drive. Newly implemented REST interface enables access to any software outside Salesforce. S-Drive users can now transfer files with ease between S-Drive on Salesforce and other third-party applications.

Drag & Drop

S-Drive users can now use the optional drag and drop functionality to upload their files easier. For more efficiency, there is also an auto upload option. When this option is enabled, there is no need to click on the Upload button for upload process to start, the process will automatically start.

Note: Auto upload is disabled by default for current S-Drive users' convenience, it can be enabled from S-Drive Configuration.

HIPAA Compliance

Starting from version 2.3.1, S-Drive is a HIPAA compliant document management application. This means that S-Drive follows rules and regulations enforced by HIPAA and provides security to protect sensitive data.

—

2.3.5 Release Notes (most recent release)

File Object Generation functionality is updated. Object list to select an object to create a file object for is now searchable for user convenience.
Fields that can be shown in S-Drive page is optimized. Irrelevant fields are not shown in Fields list.
Lightning toolbar is now configurable. Delete, Shortcut, Public Share functionalities can be enabled/disabled from S-Drive configuration section in Lightning record page.
Actions on Public Share page is now configurable. On Public Share pop up, users can choose the functionalities and access rights they want to provide.
Recycle Bin activities are now limited. Items in the Recycle Bin are not allowed to be edited.

---

What's new in 2.2? Something for every Cloud

2.2 Release turned out to be a release of All Clouds. We refer to All Clouds as Marketing Cloud, Sales Cloud, Service Cloud, Communities Cloud, Commerce Cloud and Connect Cloud.

Marketing Cloud: Along with this release, we introduce HD-quality file previews and thumbnails.
Sales Cloud: You can do lead conversion and carry over lead files to contact files, account files and/ or opportunity files, it is a matter of your choice.
Service Cloud: We are introducing a free component for Case with Attachment(s). No more hassling with a tedious two-step process to create cases first and attach files second.
Communities Cloud: A truly desired feature 'Folder-based Search' is available now. This way, you can search with a keyword on a specific folder.
Commerce Cloud: We are enabling S-Drive users to share public URLs with password protection. Users will not only be able to download but also be able to access files and folders even if they are not Salesforce users.
Connect Cloud: Willing to import files and folders from Sharepoint Online, Google Drive, OneDrive or Box into S-Drive? No problem! You will be able to do that using our new Import X-Files feature (which is available for free)

Aside from these main features, here are some other nice features coming along with 2.2 Release:

Simplified Custom Object support & Automagical Sync (migrating from 1.x to 2.2 is just a Sync button away)
Multiple S-Drive objects in single page
Recycle Bin & Expanding a Preview are available on Classic (used to be only available for Lightning)

---

What's new in 2.1? Customer-Centric features

Along with the 2.1 release S-Drive is presenting 7 new customer-centric enhancements on Salesforce.com

Collaboration: Enablement of Chatter
Enable users regardless of their location to have a discussion around a particular document
Personalization: myDrive – Your Personal Drive
Having a private space for all users to keep their personal files in a neat folder format on Salesforce.com – Enabled for Lightning Experience
Mobility: Ability to Upload Files using Mobile App
Ability for users to upload files while they are on-the-go
Customization: S-Actions- Conduct Custom Actions
Enable admins to establish custom actions on Salesforce.com
Flexibility: Retrieve Deleted Files and Folders
Ability to restore files and folders that have been deleted in a Recycle Bin – Enabled for Lightning Experience
Simplicity: S-URL – Ability to Shorten URLs
Create shorter file URLs to simplify file link sharing experience with your brand name
Accessibility: Send Files via Email to Users
Email not only to Salesforce contacts but also Salesforce internal users

Other than these 7 enhancements:

Added the ability for the sidebar to expand / collapse in Lightning to allow larger space for S-Drive
Added Audit section to be able to track the history of changes to the file

Please note that;

---

What's new in 2.0? Lightning Ready

Along with the 2.0 release S-Drive is now Lightning Ready. You can configure S-Drive Lightning Component for your standard/custom objects and S3Object(S-Drive Tab).

Please note that;

If you enable my domain after installing S-Drive 2.0, the S-Drive Tab which is placed into S-Drive App for Lightning Experience will not be visible.

To make this tab visible, navigate to Setup–>Profiles–> Your Profile–> Tab Settings and then set S-Drive tab to "Default On". This is a known issue of Salesforce. For further explanation, you can visit this link.

---

What's new in 1.28? Preview & Thumbnail, Zip & Download and more

Note that Preview & Thumbnail feature will be auto enabled for S-Drive Folders (S3Object), and Preview & Thumbnail will be generated for your upcoming uploads to S-Drive Folders in 1.28. You can disable this feature from S-Drive Configuration Tab. You can also check Preview & Thumbnail conversion pricing

Also, you can save your preferences (Sorting fields or View Type selection) to settings, in order to define default behaviour of the object you work on.

Zip & Download
You can select multi files & folders and download at once by HTML based Zip & Download Service with all browsers support. Service will create a zip file then immediately start to download. S-Drive does not support Java based Download Manager anymore.

Custom Fields
Now, you can add custom fields to S-Drive Folders, too.