What's new in 2.0?
Along with the 2.0 release S-Drive is now Lightning Ready. You can configure S-Drive Lightning Component for your standard/custom objects and S3Object(S-Drive Tab).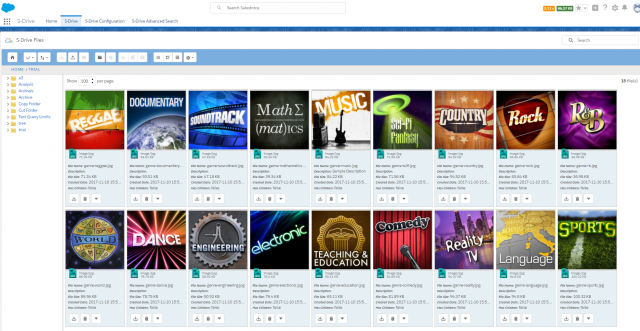 Please note that;
If you enable my domain after installing S-Drive 2.0, the S-Drive Tab which is placed into S-Drive App for Lightning Experience will not be visible.





To make this tab visible, navigate to Setup–>Profiles–> Your Profile–> Tab Settings and then set S-Drive tab to "Default On". This is a known issue of Salesforce. For further explanation, you can visit this link.

What's new in 1.28?
Note that Preview & Thumbnail feature will be auto enabled for S-Drive Folders (S3Object), and Preview & Thumbnail will be generated for your upcoming uploads to S-Drive Folders in 1.28. You can disable this feature from S-Drive Configuration Tab. You can also check Preview & Thumbnail conversion pricing here.
Also, you can save your preferences (Sorting fields or View Type selection) to settings, in order to define default behaviour of the object you work on.
Zip & Download
You can select multi files & folders and download at once by HTML based Zip & Download Service with all browsers support. Service will create a zip file then immediately start to download. S-Drive does not support Java based Download Manager anymore.
Custom Fields
Now, you can add custom fields to S-Drive Folders, too.
What's new in 1.27?
S-Drive Advanced Search Tab. You can refer to the S-Drive User Guide 1.27.pdf.
Amazon S3 Transfer Acceleration configuration for HTML uploads and downloads. You can refer to the S-Drive Advanced Configuration Guide 1.27.pdf.
Rename feature added for S-Drive Attachments. You can refer to the S-Drive User Guide 1.27.pdf.
Flash Upload has been deprecated in S-Drive.